Don't take our word for it! Here is what some of our graduates have to say:
Imma Ramos, History of Art, 2007-10 (BA), 2010-11 (MPhil), 2011-15 (PhD)
Curator of the South Asia collections at the British Museum
As an undergraduate my research interests in Indian art were encouraged by the History of Art department and especially by my supervisor (Prof Jean Michel Massing), evolving to encompass the intersection of religion, politics and gender in South Asian visual culture. On-site lectures at places like the Fitzwilliam Museum (with its fantastic collection of Indian paintings) and Kettle's Yard in the first year went on to inspire an object-centred approach to the subject, essential for any museum curatorial role. An object contains multitudes and can be approached from so many different historical, cultural, social and political angles and perspectives, providing portals through which we can better understand the world and our place in it.
Between 2007 and 2015 I completed my BA at King's, followed by postgraduate studies at Pembroke funded by the Pembroke College Art History Lander Scholarship (MPhil) and the Cambridge Home and EU Scholarship Scheme (PhD). My first book, 'Pilgrimage and Politics in Colonial Bengal: The Myth of the Goddess Sati' (2017), was based on my doctoral thesis and examined a network of pilgrimage sites dedicated to Sati, which provided the basis for an emergent territorial consciousness during the late 19th century.
Since 2015 I have been based at the British Museum where I am responsible for the curation, presentation, development and research of the medieval to modern South Asian and Himalayan collections. This includes sculpture, painting, works on paper, decorative arts and photography. I enjoy working widely across the collections to identify stories that resonate with visitors, encouraging them to come into deeper engagement with themselves and others through a greater understanding of our collective past. Over the years I have worked on a variety of projects including the curation of the medieval to modern South Asia displays in the new Sir Joseph Hotung Gallery of China and South Asia (opened 2017) and two temporary displays in 2017: 'Virtual Pilgrimage: reimagining India's Great Shrine of Amaravati' (which focused on an immersive evocation of one of the earliest and most important Buddhist monuments in the world) and 'Music of Courtly India' (exploring the unifying power of music, painting and poetry across Hindu and Islamic courts in India). Through my work at the Museum I have learnt to truly appreciate the art of storytelling and how to make research accessible to a wider audience. In 2020 I curated my first major exhibition, 'Tantra: enlightenment to revolution', weaving a narrative spanning more than a millennium and including objects from around the world, accompanied by a book presenting the first historical exploration of Tantric visual culture from its origins in India to its reimagining in the West.
Studying History of Art at Cambridge was not only a deeply enriching experience - the degree equipped me with the analytical, writing and interpretation skills necessary to embark on a career in the museum world.
Isabelle Kent, History of Art, 2014-17
The 'Enriqueta Harris Frankfort curatorial assistant' at the Wallace Collection, London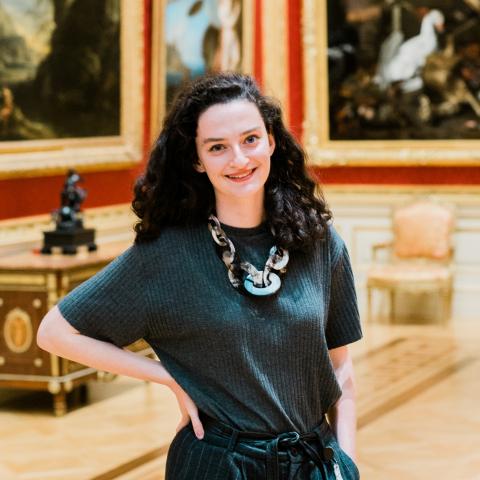 After graduating from the History of Art Department in 2017, I started work as the 'Enriqueta Harris Frankfort curatorial assistant' at the Wallace Collection in London. It's a two-year research position focusing on Spanish art in the museum's collection. My job is as diverse as it is fascinating. In the past year I have organised two major academic conferences, given numerous talks and tours, written art labels, presented conference papers, organised study days and helped with several exhibitions. I also turn on the lights in the morning and dust the priceless Sevres porcelain (so it's not all glitz and glamour).
Before getting to Cambridge I worried that my dyslexia would hold me back, but this was far from the case. Gone were the stagnant, isolated comments at the end of essays and the cookie-cutter A-Level answers. Instead I was able to discuss and question ideas both with supervisors and fellow students. This vibrant debate also fed into my writing, giving me the confidence to synthesise quickly and clearly swathes of academic discourse, while retaining my own critical argument. I use these skills daily at work, whether it's writing a concise wall caption or giving a lecture for the Art Fund.
There are many other art-related opportunities that come with studying at Cambridge. In my final year I ran the Fitzwilliam Museum Society, organising student-focused events and workshops, and bringing key art-world figures to Cambridge for talks, such as Frances Morris (director of Tate Modern) and Jake Chapman (a YBA). We also organised a massive student night inside the museum!
I happen to be following a career in the art world. My life will hopefully be one immersed in art and culture, but studying History of Art doesn't need to lead to a job in the arts. The fantastic thing about this subject is that it is, first and foremost, a lens through which to see and understand the world. Regardless of what you end up doing, Art History will always enrich and colour your life.
"In the summer of my second year I secured a two-month internship at the Metropolitan Museum of Art in New York. I had previously worked at Dulwich Picture Gallery, the V&A and the British Library, but it was my time at the Met, giving tours to kids aged between 4 and 13 from lower income neighbourhoods, that really shaped my drive to work as a curator. Art is not, and should not be, exclusive. Museums, at least in the UK, are fundamentally public educational spaces, owned by the nation, and it is the job of the curator to make them speak to the diverse population they serve. I try to channel this mentality in all the projects I work on, from my tours to my social media presence."
Mark Copestake, History of Art, 2005-08
Assistant Dean of Admissions, Lake Forest Academy, Chicago
Whilst in Sixth Form I attended a Sutton Trust Summer School for History and it was there that I had the realization that Art History was the subject for me. I'd always loved artistic and socio-cultural history; I just didn't know that the discipline existed as a viable degree option. In addition, attending a state school in South Yorkshire and being the first person in my family to attend university, I wrongly assumed that it wasn't a subject for people like me.
The first year at Cambridge was a whistle stop tour of all things art historical, which is helpful as it allows you to obtain a solid foundation, especially if, like me, you have never studied the subject before. However it was the second and third years, when you are able to select your own papers, that I found the most enjoyable. You spend a whole term exploring a particular period, movement or style in a small group setting and you are able to investigate your own areas of interest within the parameters of the course. During my time at Cambridge I was fortunate to benefit from a number of travel grants which allowed me to broaden my horizons and see some of the works I'd read about in situ.
Since graduation I have worked in widening access to higher education at Cambridge, UCL and in the non-profit sector for the Social Mobility Foundation, in the hope that I can help others benefit from the transformative effects of education like I have. I have recently relocated to the US where I work as the Assistant Dean of Admissions in an international boarding school just outside Chicago, where I love exploring the city's post-modern architecture and the Chicago Art Institute.
"The skills that I developed in my degree have helped hugely in my career. The ability to communicate clearly, present and critique ideas and converse with people from all backgrounds has all been incredibly valuable. Cambridge provides a beautiful and inspiring backdrop in which to study Art History. The academic staff are world-leading, the Fitzwilliam is one of the best museums internationally and the Colleges are fantastic architectural examples right on your doorstep. History of Art is an incredible, eye-opening discipline which will make you look at art and architecture through a different lens. It's like learning a language, a new way of thinking and communicating, and as I am testament, provides a pathway to a whole array of careers, anywhere in the world. "
Emily Burns, History of Art, 2006-09
Assistant Curator at the National Portrait Gallery, London
I first learned that Art History was a subject after complaining to a friend that I wished I could do a degree that combined all the best bits of my AS level subjects - Classical Civilization, Fine Art, History and English Literature; she answered with the obvious, and the rest is history [of art]!
I studied History of Art at the University of Cambridge (Pembroke College) from 2006 to 2009. The highlight of my undergraduate studies was probably when we went on mini field trips to view the art collections of colleges or attend a lesson in one of the galleries of the Fitzwilliam Museum or Kettle's Yard. We had the most inspiring teacher taking us for much of the first year: David Oldfield. His enthusiasm for the subject was infectious!
I am currently working part-time as an Assistant Curator at the National Portrait Gallery on the 'Van Dyck: A Masterpiece for Everyone' project, while studying for a M3C AHRC-funded PhD in History of Art at Nottingham University. My thesis investigates how the art world of England fared during the Civil Wars and Interregnum, c.1640-1660.
After getting my BA at Cambridge and working for a summer season at Buckingham Palace (!) I went straight into my MA in Cultural Heritage at UCL. I worked part time for English Heritage during my Masters, and after that I joined the team at Leighton House Museum and 18 Stafford Terrace, where I became Curatorial Museum Assistant. I spent a year expanding my horizons through six-month internships at the Victoria and Albert Museum and Lisson Gallery, followed by a three-month internship at the Peggy Guggenheim Collection in Venice. On my return, I got a job as Curatorial Assistant at the National Portrait Gallery, and over the years advanced to the role with the longest title ever: 'Assistant Curator for nineteenth, twentieth and contemporary portraits'. I had to leave this job when I got my funding for my PhD, but got another part-time job as the Assistant Curator on the 'Van Dyck: A Masterpiece for Everyone' project. I have also written a lot of contemporary art reviews for online arts magazines including This Is Tomorrow, BreezeLittle, PhotoMonitor and Apollo.
I use the skills I learnt as an Art History undergraduate every day, whether this is through not taking the photos posted on the front of tabloids and magazines at face value, assessing the merits of graffiti tags at a train station, or using the rule of thirds to produce nice photos for Instagram. In my work as a PhD student, I use the skills Cambridge taught me in being able to synthesize a large amount of material in a short amount of time. This is useful also in my work as a curator, as I regularly need to reduce a painter or sitter's life story and significance to British history into a 100-word caption. The visual analysis skills I learned while studying Art History have also prepared me well for interrogating works of art for my PhD, and also for hanging a well-balanced display at the Gallery.
"I consider Art History an important discipline because it helps us to understand different cultures and particular individual experiences through investigation into the history of human creative endeavour in the visual arts and architecture. Like any historical discipline, the answers lie in a complex web of sources – such as financial records, diary accounts, songs and art objects – and the proper understanding and use of visual arts sources is an important part of this. Each informs the other to bring the past into focus and inform us for the future."
Matt Fountain, MPhil, History of Art, 2011-12
Founder- Freedom Bakery, Glasgow
I came to study the History of Art by accident. I had always been interested in art and design but Art History had never been a subject on offer. In fact the few books we did have were for 'context' in my art A Level coursework! Initially I had intended to pursue a career in architecture but after a year of study found it wasn't right for me. It was someone else who suggested Art History would be something I would enjoy, and so I started without too much insight into what it was all about.
My headmaster at school always said to take a degree in a subject you're interested in firstly, and I have always agreed with that. Few people know what they are going to do for a career, and even fewer go down the path they first plan! What I didn't know before I started my studies is that Art History is a 'can of worms' of everything. What I mean is that it is the study of art and history, but also politics, religion, anthropology, sociology, economics, technology, and psychology too! In seeking to find an interpretation of an artwork, we can gain different interpretations about a people, a culture, a civilization, a time, a place, an historic event, the here, the now and even ourselves. Our world isn't just numbers and words. It is much more, and by going through this discipline you'll be able to make sense of where others might not dare to tread. What that means is that with an Art History degree you are equipped to be highly analytical, especially of this things which aren't easy to quantify.
After Cambridge, I did a few internships within an auction house, as an architectural historian and in branding strategy, which were all closely linked to my degree. After a short spell doing some charity work, I then set up a social enterprise called Freedom Bakery. Freedom operates an artisan bakery inside a maximum-security prison. We train prisoners how to become bakers to increase their chances of employment after leaving the prison. My work involves implementing a new approach to the way we teach, develop and assist those who, on the whole, have little chance of maintaining a normal life after prison. It is also a unique approach to business. In setting up Freedom Bakery much of my method has been to understand and find a solution to re-offending through different contexts, much in the same way as I might interpret an artist or period of painting. In effect I have been sculpted by my training and have found a very different scenario to apply those skills with benefit to society.
I think the career prospects for those with an Art History degree are broad. It's not all art galleries, academics and the auction world. A lot of my peers went into law, accounting and banking after finishing their degrees.
I believe that History of Art can set you up for anything, and often tell my peers that my approach to social business comes entirely from how I learnt to see the world in my academic studies!